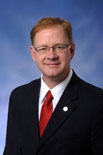 "Private business owners have enough challenges for success without having to compete against their government",  State Rep. Greg MacMaster said today, and that's why he has introduced legislation to ensure Michigan allows anyone to bid on providing services or goods to the public.
 The Kewadin lawmaker this week sponsored House Bill 4549 to put in place protections against government unnecessarily competing against private enterprise, with the exception of certain essential, necessary government functions, such as fire and police.
"Private business owners and entrepreneurs are the lifeblood and future of continuing Michigan's economic resurgence so having clear limits on where government can compete with private enterprise will boost that growth, protect the future of our economic opportunities and ensure that government does not act beyond its function," MacMaster said. "This bill creates a fair competitive playing field where all stakeholders in any type of business, including unions, can bid for the work.
"The bottom line is that if a company can be found in the Yellow Pages listings, the government shouldn't be a monopolizing competitor."
Earlier this month, after learning the Department of Corrections rejected three bids to competitively bid health care and food services, MacMaster, chair of the House Appropriations Subcommittee on Corrections, also began work to ensure all submitted bids are evaluated fairly and forthrightly.
The policies he wants to implement would clarify the state's "request for proposals" process, which is the basis for the bidding system.
"The system needs some checks and balances so that proposal reviews are comparing apples to apples and oranges to oranges," MacMaster said. "We are on top of this issue and doing everything we can to ensure that our government runs efficiently.  The legislation and overseeing the procurement process for bidding of services is another reform we need to make so our hard-working taxpayers get the best value for their dollar in instances when the private sector can potentially provide services at a lower cost."
HB 4549 has been assigned to the House Oversight Committee for consideration. MacMaster said the "request for proposal" language is being developed within the corrections budget legislation the Legislature expects to present to the governor in July.