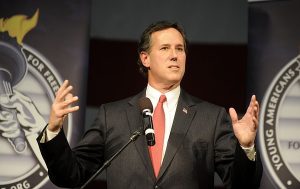 HOUSTON (TheBlaze/AP) — Former Republican presidential candidate Rick Santorum praised the National Rifle Association as "warriors" defending the U.S. Constitution.
Santorum spoke Friday in the political rally at the NRA's national convention in Houston. The convention is being held amid the backdrop of the fierce gun control debate raging across the country and the recent defeat of a major gun control bill in the U.S. Senate.
Santorum began his speech by honoring slain Navy SEAL sniper Chris Kyle and his wife, Taya, who spoke right before him at the event. "That is the face — Taya, Chris — of what this movement is about. Heroic people who care deeply and love this country. Who love this country for what it is, for what it has always been," Santorum added.
He said the government's biggest responsibility is to protect Americans' inalienable rights, something it is failing miserably to do in regards to the Second Amendment.
"So when Barack Obama says he wants to transform America, what does he mean?" Santorum asked.
Many times throughout his address, Santorum raised his voice as he fired up thousands of Second Amendment supporters in attendance. The speech was arguably one of the most passionate that he's ever given — at least in recent memory.
Santorum, a former senator from Pennsylvania, told NRA members that the Bill of Rights and the Second Amendment "come from God."
Santorum said by helping to defeat the Senate bill, the NRA "stood up when freedom was under assault. You stood in the gap. You made a difference."
He also said the debate over gun control is one over the country's core traditional values.
"The reason the transformation of America that Barack Obama is talking about is well on its way is because the folks on that side live it every minute of their day," Santorum said. "They are marginalizing anyone who disagrees with them…Don't let them!   You must in every aspect of your life understand the battle that is before us, because they do."