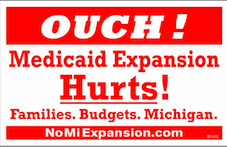 At our monthly meeting on Monday, July 15th, 2013 of it's paid members and it's Executive Committee, the Antrim County Republican Party accepted a motion that was seconded and discussed, which was followed by a voice vote.
Said motion was a resolution to reject the Expansion of Medicaid per the pending legislation HB 4714 (Substitute H-3), which passed UNANIMOUSLY (without one No vote).
Said passed resolution is being formally drafted and will be presented at our next monthly meeting, Monday, August 12th, 2013 and approved for submission to our State Representative – Greg MacMaster, our State Senator –  Howard Walker, our Governor – Rick Snyder and the Michigan Republican Party.
The Antrim County Republican Party does NOT support the Expansion of Medicaid per HB 4714 (Substitute H-3) or any other legislation which expands the eligibility or funding of Medicaid,  nor the implementation of any Healthcare Exchange or Partnership associated with the Patient Protection and Affordable Care Act  (known as "Obamacare") here in the State of Michigan.