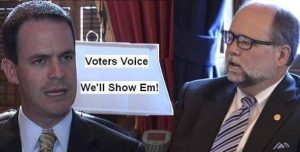 Antrim County Republican Party Resolution
Removal of Michigan's Speaker of the House – Kevin Cotter and Senate Majority Leader – Arlan Meekhof;
Whereas, the purpose of the Republican Party is to further the ideals and principles set forth in our Party's Platform in coordination with its District and County committees who work to elect those who will maintain fidelity to that platform, and
Whereas, On May 5th, 2015, the people of the State of Michigan through a state wide referendum overwhelmingly rejected any tax increases for road funding by 80.1% to 19.9%, and
Whereas, both the House and the Senate, under the leadership of the current Speaker and the Majority Leader, acted directly and deliberately against the will and instruction of the people by pressuring our Republican elected Representatives via a "Caucus Loyalty Pledge" and Senators into passing legislation to increase taxes for road funding, and
Whereas, by passage of the legislation, members of the Republican Party in both the House and Senate, have abandoned the party platform and it's core principles with complete disregard to the expressed wishes of the party's committees, delegates and members, and
Whereas, the current Republican House Speaker and Senate Majority leader, in cooperation with the Governor, have endeavored to increase taxes, expand government, increase spending, and squander the people's money, and
Whereas, the current House Speaker and Senate Majority Leader, have demonstrated a lack of fidelity to the party platform, and have exerted pressure on Republicans in both the House and the Senate to abandon our party's principles and pass legislation in direct opposition to the Republican platform, and
Whereas; Speaker Cotter and Majority leader Meekhof repeatedly misled the public into believing that reprioritizing spending would not provide enough funding for road repair and maintenance, and
Whereas: Michigan Republican Party grassroots volunteers and many donors are quitting the party citing "a loss of confidence" of those they helped get elected under the Republican banner who they believe no longer represent their values, and
Whereas; The Michigan Republican Party risks the loss of future elections as a direct result of elected officials who continue to misrepresent the Republican platform and the principles therein, and
Whereas; Legislative leadership within the Republican caucus are responsible for both setting the tone and bringing forth legislation to be voted on.
Therefore, be it resolved the members of the Antrim County Republican Party, seek remedy for the ongoing violations of trust by Michigan legislators elected under the Republican banner and the continuing abuse of trust by members of the House and the Senate, and demand immediate removal of the current Speaker and Senate Majority Leader by whatever means available, and the selection of new leadership for the remainder of this term who will constantly demonstrate fidelity to the Republican party platform and work to implement its planks into shaping future public policy.
Be it further resolved, that the Antrim County Republican Party hereby directs the Secretary and/or Issues Committee to make our position known to all Congressional District Chairs, County Chairs, the delegates of the 1st Congressional District, and the Michigan State Republican Party Leadership in a timely manner.
Dated on this 16th day of November, 2015;
Submitted by Randy Bishop – Chairman,
to be submitted to the Members of the Antrim County Republican Party, at it's regular monthly meeting for their approval.