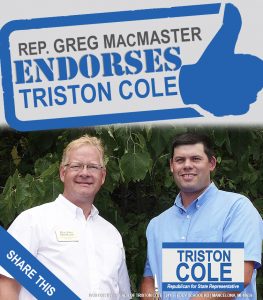 Mancelona, MI – The Cole campaign announced today the endorsement of current State Rep. Greg MacMaster in the upcoming Republican primary election for State Representative.
Triston Cole is running in the 105th State House district to succeed Rep. MacMaster who is vacating his seat to seek higher office.
Cole is also endorsed by former 105th district State Representatives Kevin Elsenheimer and Ken Bradstreet, as well as Michigan Farm Bureau
Agri-Pac.
"Triston Cole shares the concerns of Northern Michigan residents and he understands how the legislative process works, which makes him an effective leader who will hit the ground running on Day One," said Representative MacMaster.
"Over the last three years, I have worked with Triston on numerous policy issues aimed at helping local small-business owners and job providers. With Triston's guidance, we passed new laws to reduce government regulations and improve Northern Michigan's economy. I normally don't endorse candidates in elections but Triston has earned it because of his work ethic, character, and principles. Triston is a true statesman who will represent the district with honor and respect." said Rep. Greg MacMaster.
"I am honored to have earned Representative MacMaster's endorsement," said Cole, a lifelong
resident of Northern Michigan. "My campaign is all about making government smaller and more
efficient so our economy and most importantly hardworking families can prosper. I will continue
working very hard to share my message with as many citizens as possible, and to earn every
single vote needed to win."
Cole and his wife, Stacy, have three daughters and they live on their farm in Antrim County. A small-business owner, Cole followed his passion for the outdoors and started his own family farm from scratch in 2000. The Cole family farm has grown into a successful operation that provides fresh fruits, vegetables, and shiitake mushrooms for local direct market sales. When not working the land, Cole is a semi-driver and a former agricultural teacher.
Cole is also the former Chairman of Antrim County Republican Party, past President of Antrim County Farm Bureau, and he has nearly 20 years of executive experience as a member of many diverse boards and committees at the local, regional, and state level. A lifelong sportsman and hunting guide, he is very active in numerous hunting and firearm-rights groups.
The 105th district includes the counties of Antrim, Charlevoix, Montmorency, Oscoda, and Otsego.
For more information visit: www.TristonCole.com.
The Cole campaign can be followed at www.facebook.com/tristoncoleformi and www.twitter.com/triston_cole