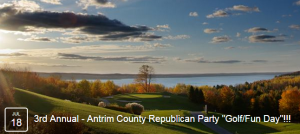 Antrim County Republican Party  Meeting Minutes for 3/16/15 at Forest Home Twp. Hall
Meeting convened at 7:38 p.m.  Chairman Randy Bishop: Pledge of Allegiance: Invocation: County Commissioner – Christian Marcus
Treasurer Laura Bogdan's report $x,xxx.xx  in State Account,  $x,xxx.xx in Corporate Account.
Chairman-Randy Bishop: ACRP Vice Chair Tom Stillings has resigned his position. Made a motion to elect two co-vice chairs: Kim MacMaster and Jim Gurr.  Ed Boettcher 2nd: the motion passed unanimously.
Secretary-Priscilla Miller: Priscilla represented our Chairman on a conference call for County Chairs with Ronna Romney and Jeff Sakwa. Reports that transition is going well.  County Chairs are the backbone of the party. Lincoln Day Dinners are already being planned. MRP wants to have at least one representative at each dinner.  Party is in a very strong financial position.  2015 Mackinaw Center Leadership Conference will take place Sept. 18th.- 20th. Date and location  of next State Committee Meeting to be announced soon. Putting a political plan together so everyone knows party goals and plans. Will be hiring Deputy Chairs.  Jeff Sakwa wants to make Michigan a battle ground state: Tough task ahead, but he believes we have the right message. He will listen to everyone and will return phone calls.
Randy Bishop: Post State Convention Report:  Ronna Romney and Jeff Sakwa are the new chair and co-chair of the Michigan Republican state party. Darwin Giles is the new Ethnic vice chair. Going into inner cities, talking directly to youth, does not believe in government hand outs.
Asked for delegates who attended convention to make a comment. Bill Bailey" "Very interesting", Greg Valerio: "Great experience", Cheri Hogan: "Suprises", Gerald Averill: "voting process took way too long".
Update on May 5th. Ballot Proposal.  Board of Canvassers approved proposal  language: No mention of money for  road repairs anywhere, photo of the ballot proposal final wording;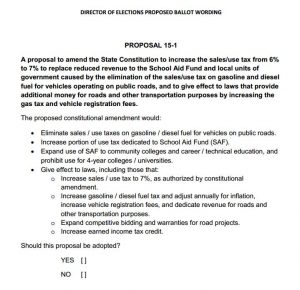 State Reps. Gary Glenn and Todd Courser introduced a bill this week which previously passed in the House known as the 'Bolger Plan.  Would repair roads, without raising taxes!
Cheri Hogan asked how much news coverage on this proposal?  Randy: MIRS, Patriot Voice Radio and MLive.
Jim Gurr: With the many beneficiaries funded by proposal ie:  public schools, townships and reinstating earned Income tax credits, proposal could pass with 50% plus1%.
Randy Bishop: MRP may hold their May 8th/9th State Committee Meeting at Shanty Creek again this year.  With Ronna Romney stepping down as National Committee Woman, election of her replacement will take place at that meeting. Further discussion at April 20th ACRP meeting.
3rd Annual "ACRP Golf/Fun Day" outing will be on Saturday, July 18th. $ 25.00 for Dinner only; $ 75.00 for Golf and Dinner.  Registration/RSVP Form at this link; 3rd-Annual-2015 ACRP-Fun-Day-FINAL
By holding the Presidential primary in March: Michigan will be part of a "Mini – Super Tuesday".
Discussions:  On changing the primary election from open, to a closed format or caucus/state convention.  Holding ACRP meetings at other locations in county (Torch Lake Twp. Hall, Elk Rapids Twp. Hall). Update on Antrim County Economic Development. Bringing manufacturing jobs to Mancelona.
2015 Membership Drive: Goal is 250 paid members.  Go to http://acrpmi.org/  type in friend's e-mail addresses in 'Subscribe to E-mail Updates.  An email asking if they want to receive the ACRP  Newsletter will be sent to them.
Membership form at this link;  ACRP 2015 Membership Form – PDF
9:06 p.m. Motion to adjourn Tom Sommerfeldt:  2nd Greg Valerio