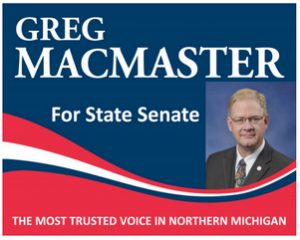 KEWADIN, MI – State Representative Greg MacMaster (R-Kewadin) today criticized House Transportation Committee Chairman Wayne Schmidt (R-Traverse City) for comments he let slip to Bridge Magazine that suggest he has a plan to raise the gas tax after the November election, during a "lame-duck" session.
A "lame-duck" session of the legislature occurs after the November election but prior to when the new legislature takes office in January. Since many members will not face voters again, and it often occurs in late night sessions during the holiday season, controversial and/or pet projects are often passed with little or no public scrutiny.
The passage from Bridge Magazine follows:
"…Schmidt, chair of the House Transportation Committee, said he favors replacing the current gasoline and diesel tax with a wholesale tax on fuel, but leaving it 'revenue neutral' for now. Lawmakers later could increase the fuel tax in a lame-duck session, he said.
'The old adage is you eat an elephant one bite at a time,' the Traverse City Republican said then. 'This is the first bite.'" (Source: 

Funding for Michigan Road Repairs Stalls as State Elections Near

, Bridge Magazine, April 10, 2014)
MacMaster has been a vocal opponent to raising taxes on Michigan motorists, whom already pay the 7th highest price for gasoline in the country along with the 6th highest gasoline tax. (Source:

Michigan among top 10 states with most expensive gas

, Detroit Free Press, March 23, 2014.)
Additionally, Michigan is only one of a handful of states to levy a sales tax on the cost of gasoline, effectively taxing a tax. 
"Raising the gas tax should be a last option, not a first impulse," MacMaster said. "And to raise the gas tax during 'lame-duck,' under the cloak of darkness is a 180 degree turn away from the governor's pledge to better government accountability and transparency. The legislative branch cannot claim transparency and then not deliver."
"The governor certainly cannot be aware of the chairman's 'lame-duck' tax hike scheme, and I encourage him to oppose it.
"I oppose a gas tax increase for the reasons I've stated. Some individuals support a gas tax increase, and they have their reasons for doing so. While I disagree with them, I respect their opinion. 
"What I do not respect is the attempt to dodge accountability for one's actions through legislative slight of hand during a 'lame-duck' session," MacMaster continued.
"These kind of shenanigans are exactly what gives politicians a bad name with citizens. You can't stand for transparency and then suggest a lame duck vote."
"Let's have an open, honest discussion on the chairman's tax increase plan. Taxpayers deserve to hear the pros and cons, the benefits and drawbacks and it should be done in an open public setting that allows citizens direct access and input into the process.
"Additionally, we need to broaden the issue to discuss what criteria is used to determine which road projects are funded. Are all areas of the state being funded equitably?" MacMaster continued.
"Are there other efficiencies to be found in Michigan's $50 billion budget that would allow the allocation of more resources to roads without resorting to increasing taxes on our people?
"After all, Georgia has 9.92 million residents and a state budget of about $20 billion, while Michigan has a population of 9.88 million residents and a state budget of about $50 billion. Can we learn anything from Georgia?
"After a thorough investigation and public discussion of the issue, then, and only then, should there be an up-or-down public vote on the chairman's plan to raise the gasoline tax," MacMaster concluded.