U.S. Rep. Mike 
ROGERS
 (R-Howell) announced this morning he would not seek the U.S. Senate seat being opened in 2014 by the retirement of U.S. Sen. Carl 
LEVIN
(D-Detroit), knocking out one of the Republicans' potential first-tier possibilities.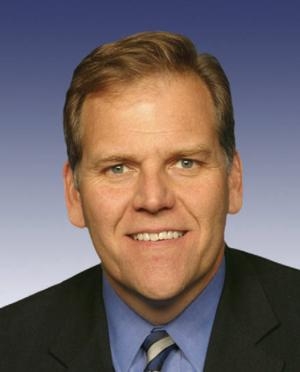 "I am truly humbled by the encouragement I have had to run for the United States Senate. After careful and thorough deliberation and long talks with my family, friends and supporters, I have determined that the best way for me to continue to have a direct impact for my constituents and the nation is to remain in the House of Representatives," Rogers said.
The decision leaves GOP National Committeewoman Terri Lynn LAND as the only formally announced candidate for the slot, with Dr. Rob STEELE giving the race serious consideration.
Other potential candidates include U.S. Rep. Justin AMASH (R-Cascade Twp.), Sen. Roger KAHN (R-Saginaw) and Rep. Pete LUND (R-Shelby Twp.).
Many Republicans viewed Rogers as the strongest challenger to the Democrats' nominee, likely U.S. Rep. GaryPETERS(D-Bloomfield Twp.), due to his access to money and his general likeability, particular to swing independent voters. Rogers consistently overperforms in his mid-Michigan/Oakland County congressional district.
However, a Public Policy Polling (PPP) survey released last week showed Land polling the best against Peters in hypothetical one-on-one parings. Land trailed Peters by 5 points (41 to 36 percent) while Rogers was down 10 to Peters (42 to 32 percent).
Bill BALLENGER of Inside Michigan Politics said these numbers show Land may be underestimated as a candidate. She has won twice statewide as Secretary of State, is a "heck of a campaigner" and has support from Tea Party and libertarians types, as is evident from her national committeewoman race, Ballenger said.
While Peters is developing into the consensus candidate among Democrats, that doesn't necessarily mean he is a slam-dunk in a General Election. Roughly a third of voters know Peters by name, which is less than the percentage of people who know Land.
"Gary Peters may very well be a 6,000-foot-tall tower of jelly," Ballenger said.
On the other side of the coin, Michigan Democratic Party Chair Lon JOHNSON said based on the polling numbers, Rogers "read the handwriting on the wall."
"Republicans' anti-middle class agenda undermines our economic recovery. Cutting seniors' benefits to give tax breaks to outsourcers is no way to win in Michigan," Johnson said. "Michigan middle class families can count on Gary Peters to fight for them."
Today's announcement may come as a disappointment to some people, said Stu SANDLER of Decider Strategies, but there's still time for Republicans to field a candidate to beat Peters and that may very well be the only candidate out, there — Terri Lynn Land.
"Terri Lynn Land has an opportunity, once she officially gets in, to get together a strong operation, raise money and show a command of the issues," he said. "It could be her or it could be someone else."
Rogers' decision does not come as a surprise in the state's political circles.
Rogers had been steadfast in not showing his hand publicly on where he leaned on his decision. But as chair of the U.S. House Intelligence Committee, Rogers would have a lot to lose in giving up a safe 8th Congressional seat and his role as the Republicans' point political person on national security issues in exchange for a highly speculative race that, even if successful, could put him in the minority.
Michigan Republican Party Chair Bobby SCHOSTAK said Rogers' responsibilities as Chairman of the U.S. House Intelligence Committee are "critical to our national security — a role that, while at a tense time in our nation's history, we can trust he will perform to the best of his ability.
"Although he will not be running for U.S. Senate, the people of Michigan are honored to have Rep. Rogers' continued service in Washington. I have no doubt that Republicans will field a strong candidate to win this seat in 2014."