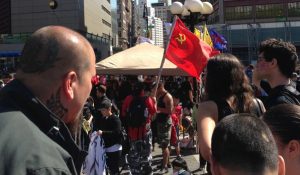 "I haven't seen any of those…" Local NYC/NBC reporter Ida Siegel told the male videographer who confronted her.
"You haven't seen any of those?" the videographer asked.
"No, I haven't — what are they, what do they represent?" Seigel replied.
"The hammer and sickle, you don't know what that represents?" he pressed.
Siegel at that point asked which group the videographer was with.
"I'm not with any group, I'm just curious as a major media company if you're going to show in the story you do about this the hammer and sickle flags," he said.
See the full exchange below:
[youtube_sc url="http://youtu.be/pZcqJf5gcG8″]