Antrim County Republican Party's Winter County Convention convened at 7:00 p.m., January 26. 2017.
Officers present: Chairman Randy Bishop, Co-Vice chairs Jim Gurr and Kim MacMaster.
Officers absent: Priscilla Miller – Secretary and Laura Bogdan – Treasurer
Chairman Randy Bishop was elected Chairman of the Convention, who asked Jim Gurr to be the Convention's Secretary (who prepared these minutes).
Sole purpose of Convention was to elect ACRP's Voting Delegates & Alternates to the Michigan Republican Party's State Convention.
The following individuals had expressed an interest in pursuing delegate status for the upcoming MRP's State convention in Lansing on February 10th & 11th, 2017:
Randy Bishop
Tom Stillings
Cherie Hogan
Greg Valerio
Jim Gurr
Dr. Richard Hoadley
Robert Bargy
Kim MacMaster
Greg MacMaster
Stacy Cole
Before balloting began statements were read for candidates for First District Chairman;
Statement for Jason Allen read by Tom Stillings
Statement for Jesse Osmer read by Greg MacMaster
A statement in support of Denise Pallarito's candidacy for MRP Grass Roots Vice Chair was made by Triston Cole.
Balloting using handwritten paper ballots began at 7:06 p.m.
Ballots were completed, collected, and submitted to Cherie Hogan and Mrs. Ronald Barwick.
While ballots were being counted, the County Convention broke out of convention at 7:16 p.m., and the January 2017 meeting of Antrim County GOP was convened.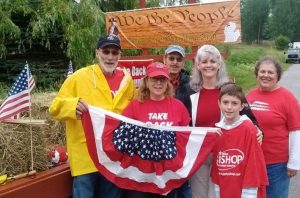 Following are the minutes of the January Monthly meeting of the Antrim County Republican Party;
Officers in attendance as above. Officers not in attendance as above.
Treasurer's report: Corporate Account $x,xxx.xx, State Account $x,xxx.xx
State Committee member Kim MacMaster reported very little actions and no subcommittee meetings were held at the last MRP State Committee in December, 2016.
Chairman – Bishop remarked most pressing business was issue of current Antrim County Republican Party's by-laws not being compliant with MRP by-laws.
Co-Vice Chair Jim Gurr made the motion to have entered into the record that Antrim County Republican Party intends to amend its by-laws to become compliant with MRP by-laws by Monday April 17, 2017 in the following manner: Within 60 (sixty) days, subject to receiving updated the MRP and District by-laws, Antrim County GOP will, by subcommittee, revise the Antrim County Republican Party's by-laws and will present the proposed by-laws to the membership for 30-day consideration for approval by the Monday, April 17 meeting.  Motion seconded by Tom Stillings. Following discussion, such process was approved by majority (unanimous) vote.
Chairman Randy Bishop initiated brief discussion of voting irregularities, recommending State Attorney General pursue charges. Kudos were made for Northern Michigan electoral successes.
January meeting was adjourned at 7:34 by motion by Tom Stillings, seconded by Mike Bertram.
Returned to Antrim County Winter County Convention at 7:35 to report results of election of voting delegates and alternates. List was reported by Cherie Hogan as follows:
VOTING DELEGATES
Jim Gurr
Tom Stillings
Randy Bishop
Kim MacMaster
Greg MacMaster
Stacy Cole
Cherie Hogan
Dr. Richard Hoadley
ALTERNATES
Greg Valerio
Rob Bargy
Jarrod Rubingh
Rebecca Rubingh
JoAnne Marcoux
2017 Winter County Convention adjourned at 7:39 p.m. after motion by Tom Stillings, seconded by Kim MacMaster.